Cauliflower is a super vegetable. Is there anything it can't be? Rice, pizza crust, cream sauce, bread sticks, etc... I've seen my favorite bloggers post about cauliflower in their smoothies but can they be trusted? Understanding the power of cauliflower, I wasn't surprised, but I was skeptical. I had to try it before I could share it. I'm so glad I did. It's freaking delicious.
This recipe is modified from one of my favorite meal planning tools, That Clean Life. Check out their free program for meal planning and healthy recipes.
INGREDIENTS
1 cup frozen cauliflower florets

3/4 cup frozen banana slices

1 tablespoon nut/seed butter of choice

1 tablespoon cacao powder

1 scoop/serving protein powder, collagen, OR Clear-Vite.

Nut/Seed Milk of Choice - Start with a cup and add more if you prefer it thinner. I mix almond milk and water. Some people like it THICK to eat with a spoon, but I like to be able to sip it without a big glop falling all over my face. Especially if I'm on the go.

OPTIONAL: 1 tablespoon maca, or magic potion of choice. If you go for maca, ask us about our favorite source. Not all adaptogens are created equal. I used Sun Potion Anandamide. It has an insane mix of ashwagandha, reishi, moringa, turmeric, and more things I can't spell without looking up.
Although this is a high-quality product with all kinds of cool stuff in it, I don't necessarily recommend you go out and buy it. I felt seduced into buying it by various people on Instagram (I'm SUCH a sucker) and I like it, but honestly, it's expensive. It's not a necessary item. If you're like me and have this or something like MoonJuice or a mushroom blend, this is a good place to use it. Otherwise, just use a pinch of cinnamon and if you're feeling spicy, add a pinch of turmeric.
INSTRUCTIONS
Add everything to a legit high-speed blender or food processor. Blend until creamy.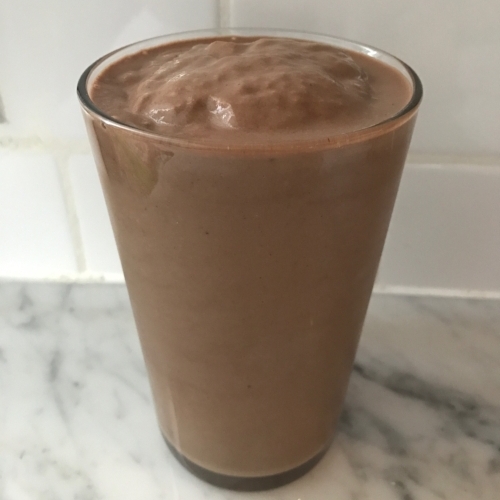 Creamy Chocolate Goodness